Stem Cell Therapy for Hand / Wrist Conditions
If you have wrist pain that has been bothering you for some time, then you are at the right place. Our team is ready to help you with the painful symptoms of carpal tunnel.
Schedule a Free Consultation
If you suffer with any of the following hand / wrist conditions; learn more about how Stem Cell Therapy can restore your health and help you live pain-free.
Carpal Tunnel Syndrome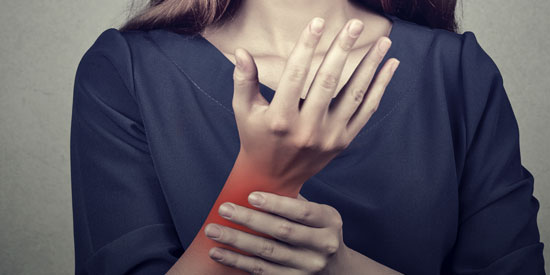 Applying too much pressure to the carpal tunnel causes the median nerve to become pinched resulting in many problems that are experienced in the wrist and hand including pain, tingling and difficulty functioning. The carpal tunnel is a pathway that runs from the elbow down to the hand. It is located on the inner aspect of your arm and houses a median nerve and many other tendons. If you have carpal tunnel syndrome and you do not want to risk the side effects associated with steroid injections or you don't want to go for surgery, you can visit one of Exodus Health Center's partner healthcare providers. We offer a non-invasive alternative to steroid injections and surgery for carpal tunnel syndrome. Our partner healthcare providers will treat all the underlying issues that are causing you pain by utilizing Exodus Health Center's Advanced Regenerative Cell Therapy to help heal the cause of your wrist pain. We will assess your condition before coming up with the specifics of your treatment. This is because the treatment procedure depends on factors such as your age, health, etc.
Wrist Arthritis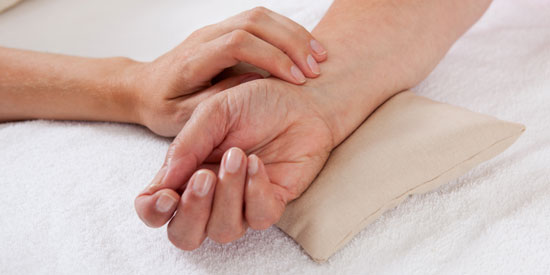 Arthritis of the hands and wrists is inflammation of the various tissues within the joints. Each joint is made up of tendons, ligaments, cartilage, and other soft tissues that provide cushioning where the bones meet, keeping them from rubbing against each other. When there is damage or deterioration within the joints, arthritis is likely to develop. Usually, the condition progressively develops and worsens over time. Sudden, traumatic injury to the delicate soft tissues of the hand and wrist joints can also lead to the inflammation, stiffness, and pain of arthritis. Arthritis pain can easily become a chronic condition, and becomes increasingly more difficult to treat. Despite the risks involved, many have tried prescription pain medications, steroid injections, and even surgery to relieve their pain. Now there are advanced, non-surgical techniques to reduce inflammation and arthritic pain. Regenerative Cell Therapy takes healing cells from Cord Tissue that contains a high concentration of immune cells, healing and growth factors that help not only heal your inflamed joint but also helps to regenerative tissue. This is a same-day, in-office procedure that helps your body heal the arthritis in your hands and wrists naturally, without the need for surgery.
What Our Patients Have to Say
Had just moved to town last month and needed a good chiropractor. I'm so happy I found this place!!! They listened to my needs, went over my x-rays and taught me how to improve my work ergonomics. I'd recommend anyone to go here! I'm beyond happy!!
---
Brian Nelson
Had a great experience with Dr. Guess. His care and concern was so great when I was in town for a short period and he made an availability to see me. He was able to help me so fast and it was just what I needed. I am so happy to have been recommended to go see this office and appreciate the excellent service they provided. The attention to detail was second to none, plus they truly made me feel at home. Love this place and these doctors!!
---
Matt Hayden
Dr. Justin and Dr. Brian are fantastic. Whether you're experiencing acute pain or looking to maintain a healthy lifestyle, they will listen to your needs and help you achieve your goals. The office is conveniently located and I appreciate being able to drop in during office hours without an appointment. I'm also grateful for the flexibility they offer for college students who are in and out of town.
---
Casey Overly
Get Your Free Consultation
Schedule your free pain relief consultation today! Just click on the button, fill out the form, and a member of our team will contact you.