About Our Practice
If you're looking for relief from your pain, Exodus Health Center offers non-invasive medical procedures for a wide range of medical conditions, including chronic pain and joint injury.
Schedule a Free Consultation
Who We Are
Exodus Health Center is one of the premiere stem cell facilities in Brentwood. Each member of our team is a dedicated professional who cares about each patient they see. Patients can trust our team to help them find the treatment solution which is the best fit for their specific symptoms.
What We Do
In order to provide relief for a variety of issues, we take an integrated approach to health care that treats patients like whole people rather than a collection of symptoms. We are dedicated to finding the root cause of medical issues such as chronic joint pain and back pain. We correct these issues with both regenerative treatments and other powerful healing therapies.
At Exodus Health Center, we provide regenerative treatments that our patients can trust. If you're seeking a solution for a medical problem like chronic pain, it's time to call for a consultation.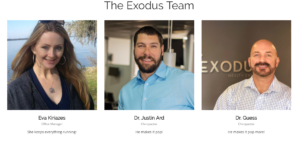 MONDAY – 8:00 – 12:00 AM & 3:00 – 6:00 PM
TUESDAY – 3:00-6:00 PM
WEDNESDAY – 8:00 – 12:00 AM & 3:00 – 6:00 PM
THURSDAY – 3:00 – 6:00 PM
FRIDAY – 8:00 – 12:00 AM
SATURDAY – Closed
SUNDAY – Closed
"Super friendly staff. Reccomend them to all friends and co workers. Dr. Justin is super passionate about seeing people get healthy and just a down to earth nice guy who makes me forget that sound you hear when you get an adjustment. That's a real big deal. Always glad I came. Nice family environment. Quick and quality service. Like visiting friends!" Google Review
Get Your Free Consultation
Schedule your free pain relief consultation today! Just click on the button, fill out the form, and a member of our team will contact you.